Law Enforcement Challenge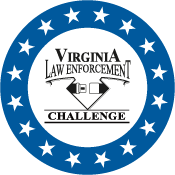 Record 60 Entries Received for the 2009 Law Enforcement Challenge
Despite a year plagued with personnel and budget cuts across the state, Virginia law enforcement agencies not only stepped up to the challenge, but surpassed it! A record 60 law enforcement agencies — including municipal police departments, county sheriff's offices, university police, military police, and the Va. Assn. of Chiefs of Police — put together entries showcasing their traffic safety education and enforcement efforts for the 2009 calendar year. The previous record was 52 entries for the 2007 Challenge. Fifty-one agencies entered the 2008 Challenge last year.
Results for both the Virginia and National Challenge will be available after the National Challenge judging process is completed in June. The Virginia Law Enforcement Challenge Awards will be presented at the VACP Annual Conference in Reston, VA on Monday, August 9. The National Law Enforcement Challenge Awards will be presented at the IACP Annual Conference in Orlando, FL on Tuesday, October 26.
Thank you for all the hard work you put in to participate in the Law Enforcement Challenge program and good luck to you all!
MUNICIPAL AGENCIES
Albemarle County Police Department
Arlington County Police Department
Ashland Police Department
Bedford Police Department
Berryville Police Department
Blacksburg Police Department
Chesapeake Police Department
Chesterfield County Police Department
Chincoteague Police Department
Christiansburg Police Department
Colonial Heights Police Department
Culpeper Police Department
Danville Police Department
Fairfax County Police Department
Front Royal Police Department
Hampton Police Division
Harrisonburg Police Department
Haymarket Police Department
Henrico County Division of Police
Herndon Police Department
James City County Police Department
Leesburg Police Department
Lynchburg Police Department
Marion Police Department
Martinsville Police Department
New Market Police Department
Newport News Police Department
Norton Police Department
Portsmouth Police Department
Pulaski Police Department
Purcellville Police Department
Radford City Police Department
Richmond Police Department
Roanoke Police Department
Salem Police Department
South Boston Police Department
Virginia Beach Police Department
Waynesboro Police Department
West Point Police Department

SHERIFF'S OFFICES
Amherst County Sheriff's Office
Augusta County Sheriff's Office
Craig County Sheriff's Office
Dinwiddie County Sheriff's Office
Fauquier County Sheriff's Office
Hanover County Sheriff's Office
Isle of Wight County Sheriff's Office
Loudoun County Sheriff's Office
Mongomery County Sheriff's Office
New Kent County Sheriff's Office
Smyth County Sheriff's Office
Spotsylvania County Sheriff's Office
Stafford County Sheriff's Office
Washington County Sheriff's Office
Wythe County Sheriff's Office
COLLEGE/UNIVERSITY AGENCIES
Old Dominion University Police Department
University of Richmond Police Department
Virginia Commonwealth University Police Department
Virginia Tech Police Department
MILITARY POLICE
Fort Lee Police Department
STATE ASSOCIATION (National Challenge Only)
Virginia Association of Chiefs of Police