Law Enforcement Challenge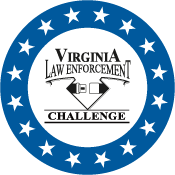 Entries Received for 2010 Va. Law Enforcement Challenge
Last year, we received 60 entries for the 2009 Law Enforcement Challenge... Can we meet or even exceed that number this year?!?
Entries must be received at the VACP by Friday, April 22 (this is an extension). Click here for more about entering the Challenge
Thank you for all the hard work you put in to participate in the Law Enforcement Challenge program and good luck to you all!
MUNICIPAL AGENCIES
Albemarle County Police Department
Arlington County Police Department
Ashland Police Department
Bedford Police Department
Berryville Police Department
Blacksburg Police Department
Chesapeake Police Department
Chesterfield County Police Department
Christiansburg Police Department
Colonial Heights Police Department
Culpeper Police Department
Danville Police Department
Fairfax County Police Department
Front Royal Police Department
Harrisonburg Police Department
Henrico County Division of Police
Herndon Police Department
James City County Police Department
Leesburg Police Department
Lynchburg Police Department
New Market Police Department
Newport News Police Department
Norton Police Department
Portsmouth Police Department
Pulaski Police Department
Purcellville Police Department
Radford City Police Department
Roanoke Police Department
Salem Police Department
South Boston Police Department
Virginia Beach Police Department
Waynesboro Police Department
West Point Police Department
Williamsburg Police Department

SHERIFF'S OFFICES
Amherst County Sheriff's Office
Augusta County Sheriff's Office
Dinwiddie County Sheriff's Office
Fauquier County Sheriff's Office
Hanover County Sheriff's Office
Isle of Wight County Sheriff's Office
Loudoun County Sheriff's Office
New Kent County Sheriff's Office
Spotsylvania County Sheriff's Office
Stafford County Sheriff's Office
Washington County Sheriff's Office
Wythe County Sheriff's Office

COLLEGE/UNIVERSITY AGENCIES
Old Dominion University PD
University of Richmond PD
Virginia Commonwealth University PD

MILITARY POLICE
Fort Lee Police