Eight Lives Lost to Traffic Crashes Over 2016 Independence Day Weekend in Virginia
RICHMOND – Five drivers, a motorcyclist, a teenage passenger and a pedestrian died in seven traffic crashes across Virginia over the Fourth of July weekend, according to preliminary reports. The 2016 July Fourth statistical counting period began at 12:01 a.m., Friday, July 1, 2016, and concluded midnight Monday, July 4, 2016. The fatal crashes occurred in the cities of Chesapeake and Roanoke, and the counties of Albemarle, Buckingham, Chesterfield, Lunenburg and Sussex. The double fatality occurred in the City of Chesapeake. Read more...
---
Motor vehicle crash deaths in the US are still too high
About 90 people die each day in the US from crashes— resulting in the highest death rate among comparison countries
Reducing motor vehicle crash deaths was one of the great public health achievements of the 20th century for the US. However, more than 32,000 people are killed and 2 million are injured each year from motor vehicle crashes. In 2013, the US crash death rate was more than twice the average of other high-income countries. In the US, front seat belt use was lower than in most other comparison countries. One in 3 crash deaths in the US involved drunk driving, and almost 1 in 3 involved speeding. Lower death rates in other high-income countries and a high percentage of risk factors in the US suggest that we can make more progress in reducing crash deaths. Read more...
---
Governors 2016 Transportation Safety Awards Announced
Groups and Citizens Recognized for Commitment to Saving Lives
RICHMOND - Virginia's top transportation safety advocates were honored today during a ceremony at Virginia's Executive Mansion. Governor Terry McAuliffe and DMV Commissioner Richard D. Holcomb presented the 2016 Governor's Transportation Safety Awards
The following individuals and organizations were honored for outstanding contributions to transportation safety... Read more
RELATED: Former New Kent sheriff recognized with lifetime achievement award
---
Public Service Announcement (PSA) Released on the Silver Screen to Spread the Word About Virginia's "Move Over" Law
June is "Move Over Awareness Month" in Virginia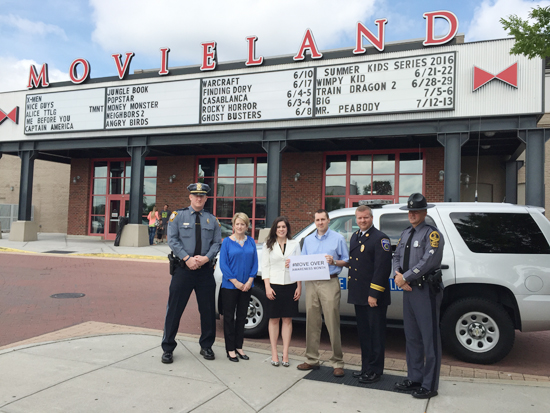 RICHMOND, Va. – What do summer movie blockbusters and Metro-Richmond emergency responders have in common? Beginning June 3, 2016, through the end of the month, they will be sharing the same silver screen in theatres across the region to help increase awareness of Virginia's "Move Over" law. The kickoff coincides with Governor McAuliffe's 2014 designation of June as Virginia's "Move Over Awareness Month."
The 30-second special public service announcement (PSA) features members of Hanover County Fire and EMS, Henrico County Police, New Kent County Sheriff's Office, New Kent County Fire and EMS, VDOT, Virginia State Police and AAA Mid-Atlantic reminding motorists to comply with the state's Move Over law. The PSA is running in the pre-show before each feature presentation during the entire month of June in theaters in Richmond. Read more